INGSA Horizon Series
Interviews from the interface between science, policy and society
COVID-19 has thrust into the spotlight the role that science plays in all our lives. Medical interventions and vaccines, technology and misinformation, science evidence and its critical nexus with fast, effective and fair policy choices.
In 2021, the International Network for Government Science Advice (INGSA) is producing an interview series with some of the key global practitioners at the interfaces between science, policy and society. This INGSA Horizon Series looks beyond the immediate lessons of the pandemic to how the complex systems of our society need to adapt to face future wicked challenges.
In the new edition, Sir Peter Gluckman (Chair of INGSA) chats with Sir Jeremy Farrar, the Director of the Wellcome Trust, one of the world's largest philanthropic organisations. Sir Jeremy is also a member of the UK government's Science Advisory Group for Emergencies (SAGE) mechanism that was an important pillar of the UK response.
In a wide-ranging and honest interview, Sir Peter and Sir Jeremy discuss why some countries did better than others, nationalism and the limits of multilateralism, and how the next six months could define the coming decade…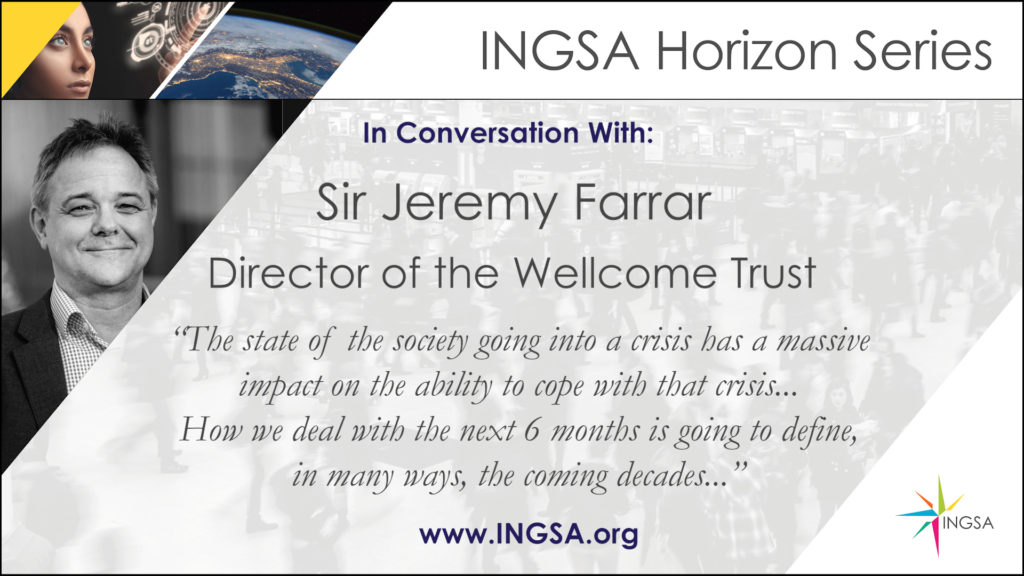 Watch on Youtube: https://youtu.be/l7nXsce-pMQ
For more from the INGSA Horizon Series visit: https://covid.ingsa.org/2021-horizon/
Or Follow @INGSciAdvice on Twitter and #INGSAHorizon